Blog & Social Media Services: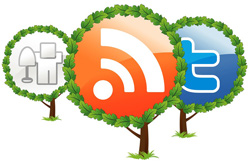 In this modern world the role of blogs and social media on any civilized and educated person is really remarkable. People love to spend hours infront of computers reading different types of Blogs or love to build great networks through social media service. Hence the online marketing service providers cannot ignore these two highly influential factors to promote ideas or products among the net surfers.
Social Media; Greater Influence with Faster Result: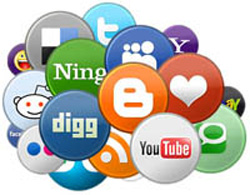 This is the era of internet and people love to spend time before computer. And most of them is fond of social media. If we try to define social media then we need to break its name. Media is a platform of communication like newspaper or TV. So in that sense social media should be a social platform of communication.

The basic difference between a regular media and social media sites is regular media is like one-way street, where you just get the news and information but you cannot share anything of your own about that news on that platform. But in case of social media, the websites give you the chance to interact on each topic or news that they provide to their viewers. This interaction can be as simple as asking for your comments or letting you vote on an particular topic.

However, this kind of platform, where millions of people can share and gather information can be a good way of promoting business ideas, brands, new sites and many more upcoming events. People can give their choices about these events or products and websites instantly.

In the similar way, blogs can influence people a lot. But if you want to spread your ideas through blogs then you must be careful about the writing of those, because, blogs can only get the attention and popularity if the writing is good enough. Your each blog should have relevance, fluency, contemporary topics and most of all must be written is such a manner that could be easily understood by the readers.

But for effective blogs there are some factors that you should maintain;
Good writing

Fluent language.

Relevant and contemporary topics

Contents with good and useful information
Through this kind of blogs you could easily promote your ideas, your brands or products among the net surfers..